The Elfstedentocht 1940 and 1941 of Tjerk de Haan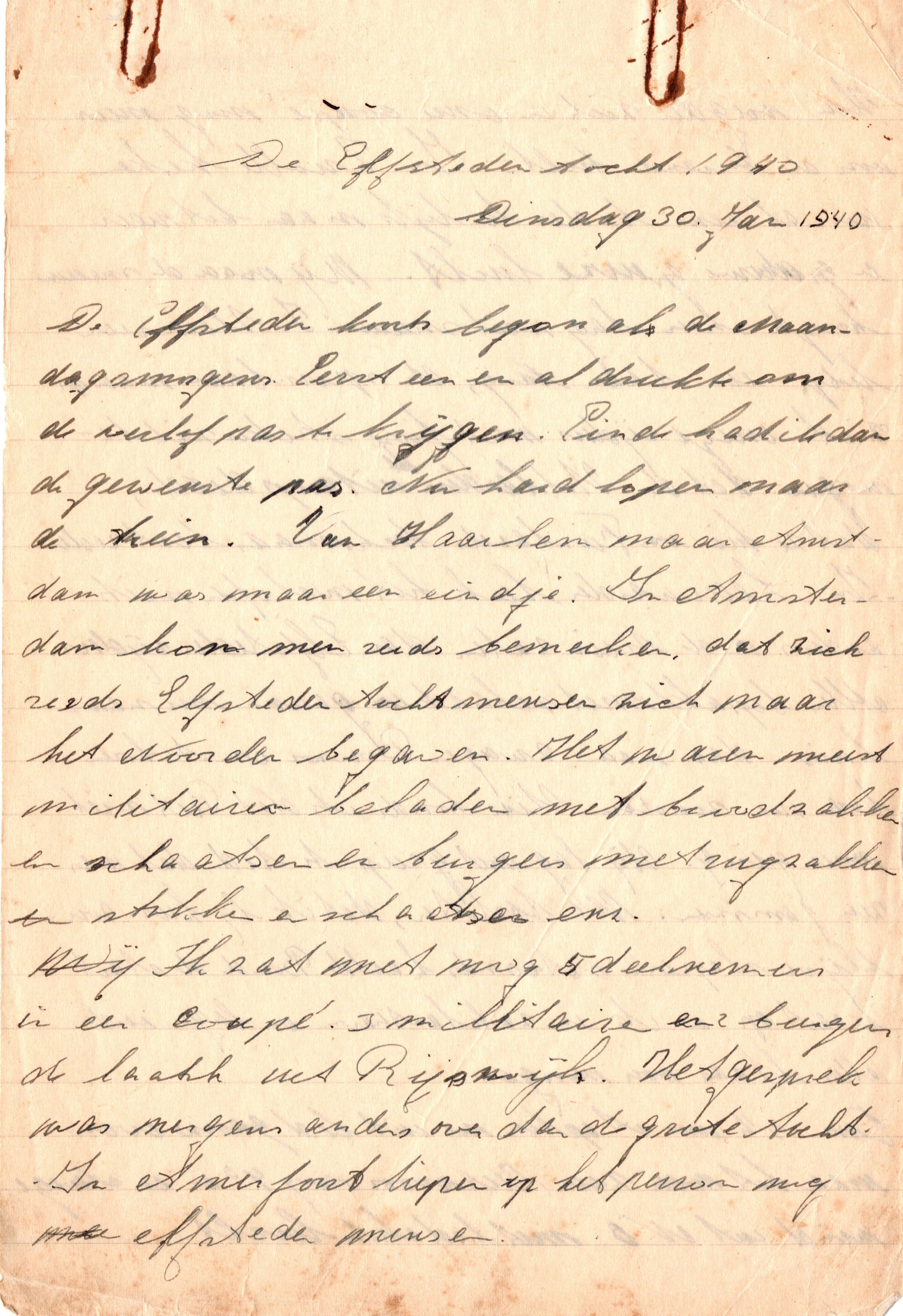 Tjerk de Haan skated the Elfstedentocht in 1940 as a soldier. Only few skaters reached the finish of this 200 km long Elfstedentocht. It was a tough trip with bad weather conditions.
Tjerk de Haan skated and walked for hours in the dark and reached Vrouwenbuurtstermolen (before Bartlehiem!) where he stopped. He was picked up by bus with others at around 11 p.m. and taken to Leeuwarden. Elfstedentocht councilor Kingma promised that despite the fact that they had not completed the tour, they would still receive the Elfstedentocht cross. Which also happened.
In 1941, Tjerk de Haan skated the Elfstedentocht again during wartime and this time he finished it completely.
He wrote down his experiences for both skating tours. About that of 1940 in the form of a report and about that of 1941 with a short impression.
Tjerk was born in Harlingen on April 15, 1913 and died on April 10, 2006 in Auburn, Maine. As a teenager, his family moved to Leeuwarden where he continued his education in (meubelmaker) furniture/cabinet maker and draftsman. He moved to Groningen in 1941 and married Johanna Siemensma in Leeuwarden on October 14, 1943. They lived in Groningen until January 16, 1957, when the family with 5 children, ranging in ages of 12 to 3, immigrated to America and lived in Auburn, Maine. A six child was born In Maine. Tjerk worked, until his retirement, at Paris Manufacturing Co., South Paris, Maine designing and making furniture samples to be manufactured for college dormitories and hotels.
He may have been in military service since 1934.
His wife, Johanna de Haan-Siemensma, later made a beautiful embroidery of the Elfstedentocht on which the two crosses of Tjerk de Haan are pinned.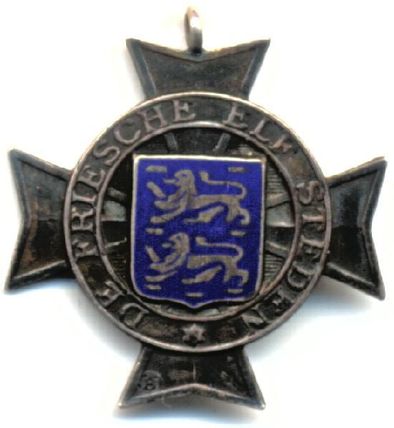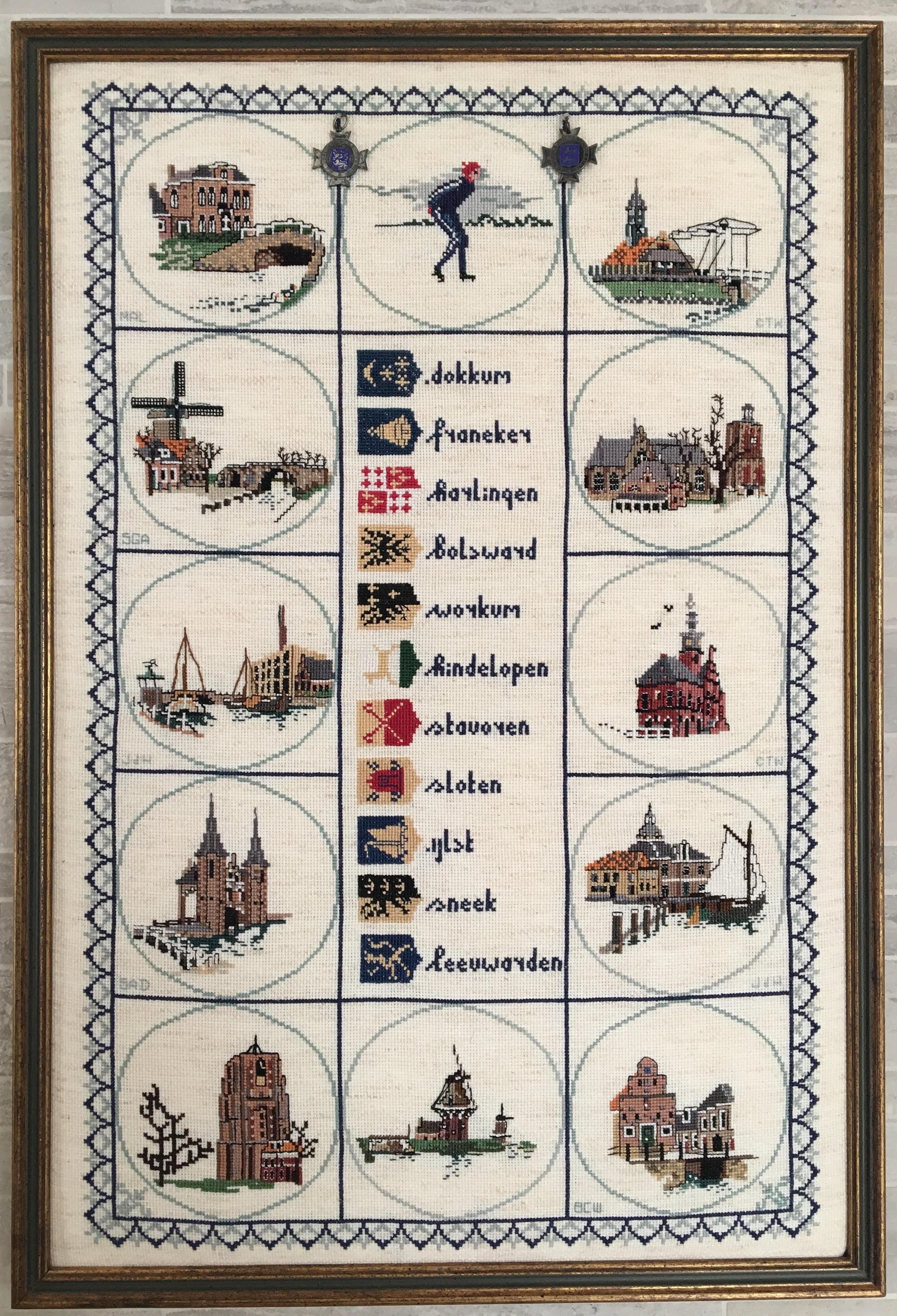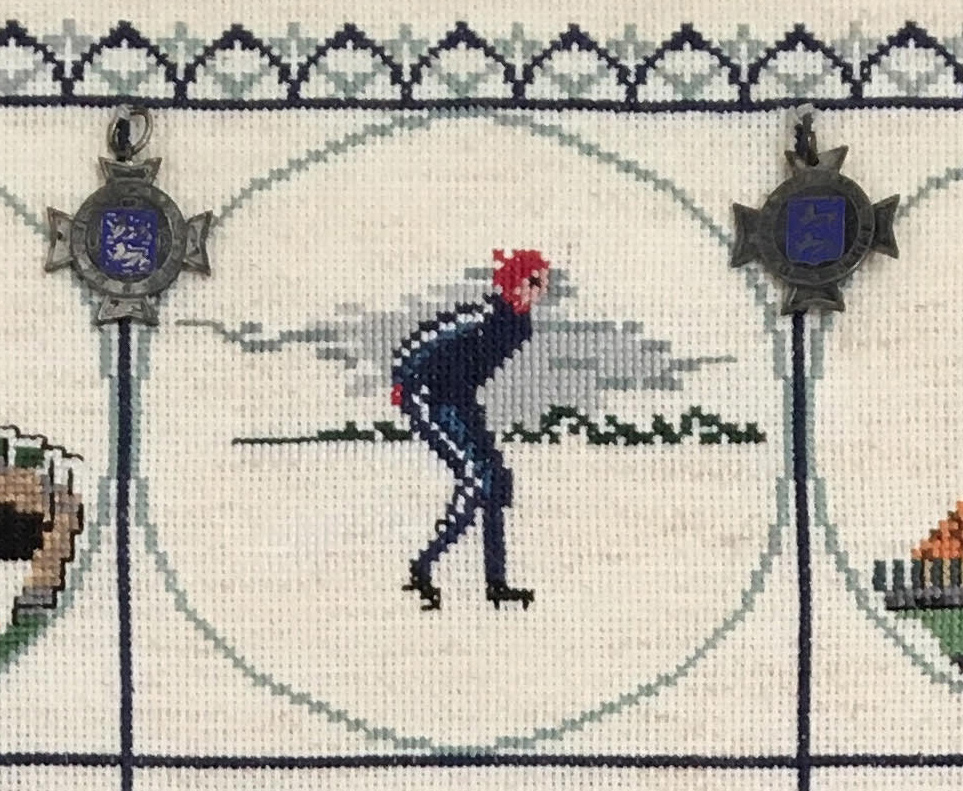 The 6th Elfstedentocht 1940 Thuesday, 30 January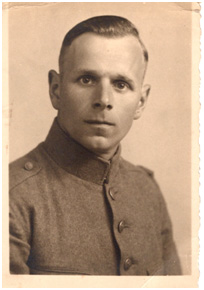 Report of Elfstedenskater Tjerk de Haan in 1940 as a military service man
(Translation of the original handwritten notes by Maria Petrola-de Haan)
The Elfstedentocht fever already started on Monday morning. At first, there was a lot of hustle and bustle to obtain the furlough pass. Finally, I got the desired pass. Then, running to catch the train. From Haarlem to Amsterdam was only a short distance. In Amsterdam, it was noticeable that folks were already traveling to the North. They were mostly servicemen with stuffed breast pockets and skates, and civilians with backpacks, poles and skates, etc.
In the compartment I sat with 5 other participants - 3 servicemen and 2 civilians, the last one from Rijswijk. The conversation was nothing else than about the grand Tour. In Amersfoort, there were additional Elfstedentocht folks walking on the railway platform. Here, some of them merged into our compartment, even more conversation about the well-known Tour.
Already in Zwolle, they tentatively were looking at the weather, a gloomy gray sky. Me! at the height of the snow, a lot of snow laid here. In Heerenveen, there ran a track along the railroad tracks ,whereby a sole skater, moving with powerful strokes, delivered that the Hollanders proclaimed; "that, nevertheless, the Frieslanders would be challenged." In Leeuwarden while sitting on the train, it looked like there were no one else but Elfstedentocht skaters, all strapped with skates.
Quickly, going home now, then to my brother-in-law Bouwe [Jongma] to hear how we would proceed. There is where I heard that Piet would not be joining us. He was in bed with the flu, that was a great pity. We decided that I would sleep over. In the evening, Bouwe picked up the start-up cards and I a flashlight, then laid out everything ready for tomorrow.
At 3:30 a.m. we stepped out of bed, quickly looking to see regarding the weather conditions. It was still freezing 4° C and a strong wind from the North East with overcast skies. We got dressed and stuffed ourselves, here and there, with papers in between the layers. Bouwe had just gone to see if Paulus was already up, he was also on time. At 4:15 a.m. we set off, the pole under the arm and the spare skates linked together.
It was extremely busy in De Beurs. One could see all kinds of skaters, with their faces glowing from the grease. We had our cards stamped and waited for the signal of departure. Mr. J.M. Kingma also addressed us just before we left. Finally, the doors were opened for the takeoff. Now swiftly running to Schenkenschans. At 6 a.m. we started. Immediately, a nice sprint got underway. It was just jam-packed with skaters.
We turned our flashlight on, every so often, but it was becoming relatively light out. On the ice, you could readily distinguish the cracks on the ice. At the Boksumerdijk, there were cars that illuminated the track and the bridge. By every protruding point, there was a lantern. At De Dille, locals were there to help us pass under the bridge. We had it pretty good – a long time, before the wind (tailwind).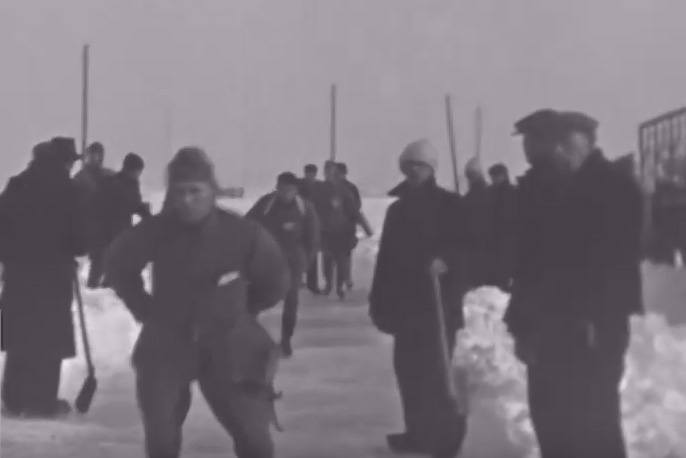 At Sneek, we were pulled ashore by helpful hands. Went through a street that was planned as a miniature ice rink. On this little track, we skated to a street, crossed over it, then through another street covered with ice, and then back on the water. A short skate now and there was the checkpoint. The checkpoint was in a garage. You could walk through the garage fairly quickly and in the meantime, they would stamp your controlcard, (that was 7:17 a.m.) - that was a good checkpoint. The other end of the garage was also bordered on the water - on the left De Geau.
Now quickly to IJlst, that was only a short distance. Here too, a small lady passed us again, we had seen her at De Dille too. She skated a skillful stroke and rushed past us at a great speed. In IJlst the checkpoint was in a café, that was good too, you were pulled ashore and led into the café. This also worked out very well. You left the café again on the other end. We were there at 7.30 a.m.
Now began, once more, a longer stretch. We had it alongside the wind. The track here was already somewhat covered with snow. So off and on, we skated well into the wind (headwind). Here the track was pretty good. We skated through Woudsend and had to "klûnen" (walking on ice skates) around the bridge.
We were off to the Slotermeer where we skated into the wind (headwind). There were strong gusts. Into the wind (headwind), we passed several individual skaters. On the Slotermeer, it was bitter cold, the track turned slightly so that we were moving alongside the wind. Definitely, at least 25 cm of snow lay on the Lake. The track here was narrow, broom sweepers made every effort to keep the snow off that was blowing on the tracks. In the middle of the Lake there were so-called wood boxes. Boards were laid over them and there were policemen and locals available to help you. It looked very different now, than in the summer, when we sailed over the Lake. After half an hour we had crossed the Lake. In the canal that headed to Sloten, there was a long string of skaters who came back from the checkpoint and then crossed the Lake over in a different direction to Stavoren.
It was very busy at the checkpoint in Sloten. This was an awful checkpoint. Skaters stood in a long row on the ice facing the door. Once you were in the café, you could hardly get out. We quickly took our skates off and squeezed ourselves at the door into the café, which saved us a good fifteen minutes, rather than standing in line, then went straight through. In the corridor, a captain mercilessly scolded out a soldier, so that his spare skates got hung up on the back of the captain's sleeve. We quickly put our skates back on, drank a cup of chocolate in a tent, and now off to Stavoren.
First, skated out of the canal and then onto the Lake. In the canal, we also happened to encounter Tj. Oudijk. On the Lake, we skated just before the wind (tailwind). We flew over the track. Wonderful skating was that. At the Galamadammen, we had to "klûnen" (walking on ice skates) around a bridge. Towards Stavoren, we again had to skate on a narrow track. It was very chaotic here since you also had to return by skating the same 5 km long canal. At the entrance, I also saw our pediatrician, Dr. Brinkhorst, who was already returning and skated quite well.
At Stavoren the checkpoint was on the ice, but we decided to get something to eat here first. We had our time signed off in the Café; it was then 10:10 a.m. In the café, it was frantically busy, you could hardly get anything. When I finally got a glass of milk and had put it down on a little table, barely was it standing, one way or the other, it fell upside down. Once more I had to get a new one.
After a half hour of rest, we started again. In the meantime, it became extremely cold. The sun was shining a little bit and the wind, brisk. In the café, we again fastened our skates back under. Near the ice, I met Sergeant Stil, he had been a half-an-hour behind us and before Sneek he passed us. In Sloten, he wasn't feeling too well.
For us, the difficult journey now began into the wind (headwind). We were advancing very slowly. Through Molkwerum, we skated a short distance, once again, before the wind (tailwind). At this point, 2 skaters hooked up with us. Later, we lost one of them. Here we skated with strong strokes. The friend, who was skating behind us, was also an excellent skater. He came from The Hague, he said.
In Hindeloopen, we had to skate a long stretch because the checkpoint was there in the bath pavilion. It took a lot of effort to climb on top of the seawall. We were here at 11:34 a.m. At the exit, we received a chocolate bar from a Hindeloopster beauty.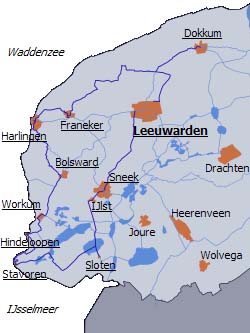 Now onto Workum, that was not too far, but it was tough into the wind (headwind) with terrible ice, and a very narrow lane. With the four of us, we passed several individual skaters. For the fourth time, we passed a gentleman on "Noren" (speed ice skates attached to shoes) with white socks on. In Workum, the checkpoint was on the ice in a little tent, where you could skate straight through.
After Workum, it was Bolsward turn. Again, into the wind (headwind), but once more, we energetically skated on. At Parrega, the conditions were deteriorating . When the wind whipped up, the snow was blowing over the tracks, occasionally, there already laid 20 cm of snow. We had to walk, at a snail's pace, through that snow. There was a long line of skaters (walking). After a good hour of slogging, we arrived in Bolsward. Just before Bolsward, Sergeant Stil passed us. We were just standing there eating some raisins rolls from our Hagenaar, they tasted yummy. In Bolsward the checkpoint was in a café, this process was reasonable. When we decided to leave, we somehow lost our fellow skaters. But first, I had to gulp down a Frisian sausage, and then onward, before the wind (tailwind), toward Harlingen, my city of birth.
Little groups of spectators were watching the skaters here and there, but that was not easy. Here Z. Zijlstra passed us with Jan, who was out of the hospital. They also skated skillfully. In Harlingen it was somewhat busier. Here I could immediately hear that you were in Harlingen, among other things, using the word "zeun", etc. At the railway bridge, we had to remove our skates and walk further. We then decided to first eat something in the waiting room of the Netherlands Railway Station. The meal tasted actually very good. After half-an-hour of rest, we got up. But first, we had our control cards signed off at 15:37. Along the canal, we came to De Rie, a quick glance at the house where we used to live, then left and once more back into the cold . When we were out of De Rie area, Paulus fell behind. It turned out later that his skates were incorrectly fastened.
Now began a very cold trip. The dusting of snow was not so serious. Bouwe and I attached sharper skates underneath our feet, that skated much better. It was quite a challenge to get to Franeker. The wind whipped up and the temperature dropped. Also, the string of skaters was becoming longer, consequently you got to skate faster into the wind (headwind). It wasn't easy. We cruised along with this string of skaters for a long way.
In Franeker we were welcomed with music. There were hardly any folks skating here. At the checkpoint, we were signed in at 16:47. This one was at the Leeuwarderend. Here we rested for a little while and inquired about the condition of the ice. Those reports were not good. We were advised to quit. Now, we didn't want to do that yet. At this time, we also received coupons for chocolate milk in Bartlehiem.
Now began a stretch of 37 km where the competitive skaters took 4 hours to complete. In Franeker we heard that the first ones had not yet arrived in Leeuwarden. It would be a difficult route that still awaited us. We thought that we were seriously behind, but it turned out in Franeker, that we were still among the first 500. With great optimism, we continued our trip.
It became another struggle against the wind. After a half hour of skating, a long string of skaters caught up with us. We hooked up with them, because we would advance faster, and it also gave us some new energy. The track was here still adequate. It started to get quite dark, so that the visibility also became problematic. Suddenly we heard honking from a car behind us. What now! a car on the ice? It turned out that a string of skaters had a car horn on their pole. De string of skaters wanted to pass us, but that wasn't happening. We skated side by side for a while, but that definitely irrigated the leader. The front section gave out a yell, "the instigator threw an extra shovel of coal on the fire", so we were ahead of them again, and made sure that the "car" stayed behind us. At Bartlehiem, the majority of the gang stopped in a tent for hot chocolate. We had no desire to do that and then the three of us went slightly further and took a break
After having skated for a while, another group caught up with us and we decided once again to join them. We now skated a short distance alongside the wind. By a café at a bridge, the canal turned again, and then we were skating directly into the wind (headwind). It was now totally dark and there was, occasionally, snow on the track. We hardly made any progress, then one fell and then another, it wasn't easy. We sometimes had to walk considerable distances. After an hour or so of hiking, the ones in the front, the troublemaker, just wanted to rent a bus with all of us. We again continued on, no matter what it costs, we wanted to get the Cross. So, we continued by ourselves.
At every small bridge that we came across, there was a fellow standing there with a lantern. We asked one of them how far it was to the (Dokkumer) Ee, he said 5 km, to another who said 12 and again a little further, it was 17. It looked like that the (Dokkumer) Ee was more or less eliminated ahead, but we skated in that direction anyway. In that stretch, my mouth once came in contact with the reserve skates from the three of us, which were tied with a belt around my leg. It wasn't too bad.
At a corner where the canal turned more towards the north, there were several skaters standing under a military tent. Here, we had to walk; the track was totally covered with snow. We ,once again, detached our skates from under our feet and we walked. Boy, oh boy, lots of snow! sometimes you stood in the snow over your calves and the wind turned colder. After half an hour of walking, we met some broom sweepers and skaters who were returning, it was impossible they said, as far as they knew it was all snowed in. We looked at our watch, 7 p.m. First let's discuss what we are going to do now.
Certainly, we still had at least 2 hours of walking to Dokkum and from Dokkum to Leeuwarden was certainly another 5 hours of walking. All in all, we could not reach Leeuwarden before 12 midnight, that would be unfortunate. There goes our hope to receive the Elfstedentocht Cross, already we had toiled for 14 hours, and, not withstanding our much-needed physical condition, we did not want to give up yet, how unfortunate though, that snow, that snow!
Disappointed and with a heavy heart, we acknowledged to do the return trip until there was a canal that ran parallel with the road. Several other skaters were already standing there. Another group skated through including a lady. They asked, "did she not want to stop?" "But why", the lady answered laconically: "Quitting never!"
Then we sat down in a farmhouse. Surprisingly, I appeared with still a bag of provisions which we then divided amiably what we still had on hand. We received coffee from the farmer's wife, and with our backs leaning against a cow, it still tasted quite good.
In the meantime, some gentlemen were telephoning the Board about the issue, how do we get out of here, and would we still receive the most sought-after cross. After a long conversation, it was decided that they would pick us up with cars, and possibly we could still receive the cross too. More and more stranded skaters were coming in, all were discussing their experiences with the Tour.
At +/- 9 p.m. the buses arrived, 10 of them, they were being besieged. Immediately, all the busses filled up quickly. Two sick people were seated in our bus, a gentleman who was overcome from the cold and a lady who was somewhat stressed. They were bundled up exceptionally well. Here we go, on our last leg, allowing ourselves to take a ride . We were traveling over Marssum to Leeuwarden, where there were plenty of snow piles too, the mood in our bus was depressing. We agreed that in Leeuwarden, we were not allowed to disembark, but then first with grit to Leeuwarden.
Kees Garst was talking to the Board. After a while he came back with Mr. Kingma, who shared with us, that surely, we would be receiving the cross, and then a loud "hurray" soared up and a hurray for Kees. Notwithstanding, our Tour would not have been in vain.
We then travelled, bus by bus, to De Beurs to have our control cards stamped. I marched next to a bus to De Beurs and there checked myself in together with 30 other skaters. Our cards were signed off and we were finished.
It definitely was a difficult tour, but as for me, it wasn't too bad. That evening I still felt reasonably fit. I stayed for the distribution of the prizes. It was still quite a nice festive evening. I was back home at midnight.
The next morning, cheerfully I got out of bed. At 9 a.m. caught the train to return to my division. In the compartment, it was only occupied by Elfstedentocht skaters. The conversation was about nothing else than the Tour. Two of them had entirely completed it, a corporal even belonged to the first arrivals, plus three servicemen. The others were stranded here and there.
In Amsterdam, another gentleman was sitting on the train who also had skated it. He had accommodations nearby for 3 days, etc. at a cost of ¦25.-, but he got stranded halfway and so did not earn the sought-after cross.
Arriving at my unit, I reported to the sergeant of the week, and now everything was behind us, and I could start my military service again.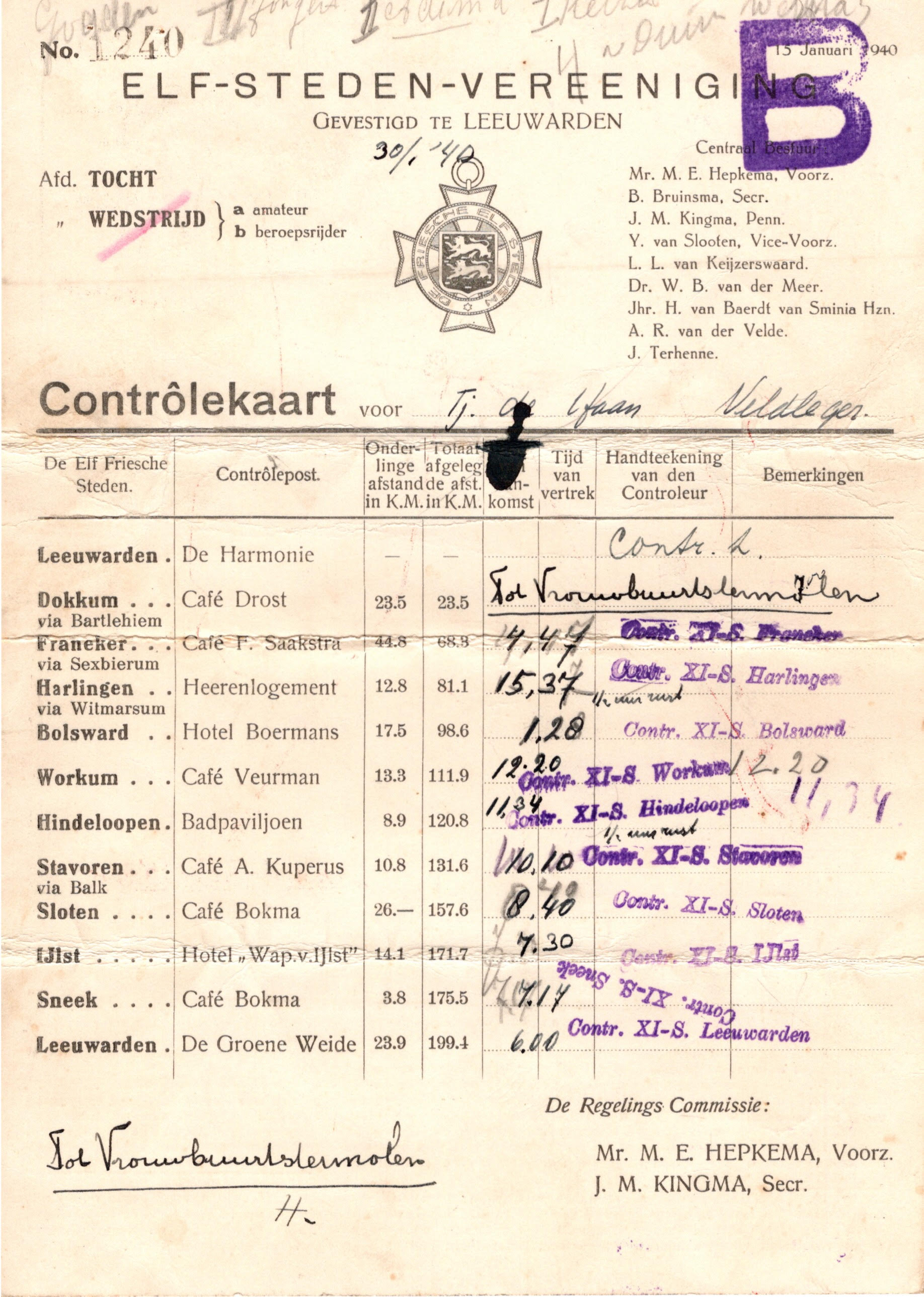 The 7th Elfstedentocht 1941 Thursday, 6 February
A few Impressions Elfstedentocht 1941 of Tjerk de Haan, Leeuwarden (Friesland, The Netherlands)
(Translation of the original handwritten notes by Maria Petrola-de Haan)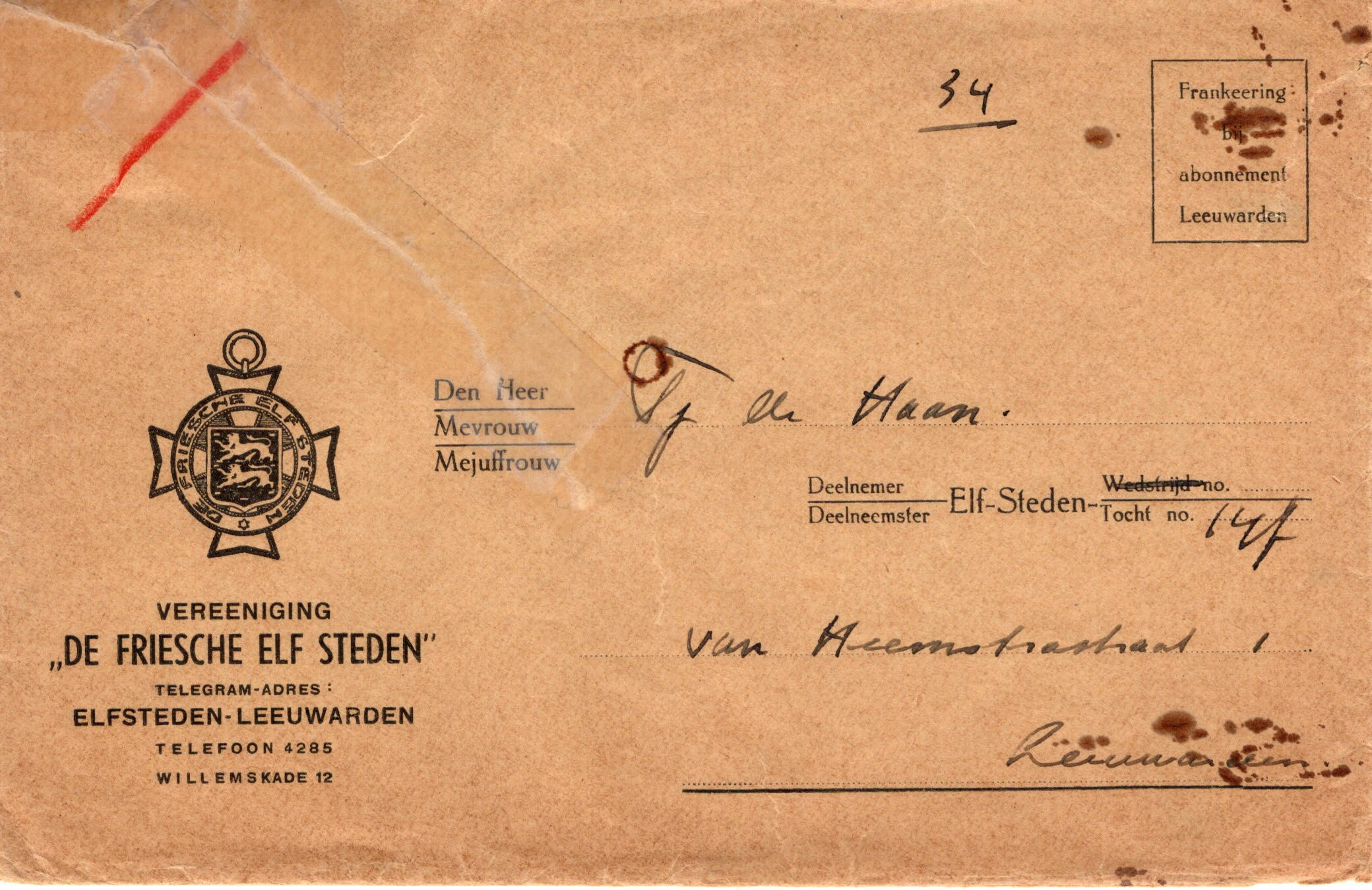 Slept at Bouwe [Jongma]. At 5:45 a.m. to De Harmonie in companionship with Piet, Petrus, Bouwe, Piet de Jong, and Hamersma. 12° C frost. At De Harmony - Sjoeke Douma. Starting point, Groene Weide, dark out. To Dokkum with Sjoeke on the stick, awful ice, fell. In Bartlehiem, the competitive skaters were coming back. Back in Bartlehiem 8:40 a.m. To Fr. [Franeker], poor ice, walked in Oude Leije. Sjoeke had to take care of his toe bindings. Met with Bouwe, Meindert. Bouwe: lumpy, bumpy, sandy ice at Dongjum, bridge under construction, Franeker arrival ... all cousins.
To Harlingen, terrible ice. Sjoeke is fading. Bouwe is having trouble with skating, a great pity. Reconnected in U [Urgabuurt]. At the train depot, we again meet Piet de Jong and Hamersma. Petrus and Piet skated on. Eating and rested here - 1 ½ hour. Sjoeke drops out. Snow and cold, now we are in the back of the groups. To Bolsward, brutally cold in the wind (headwind). A lot of people in the café here.
To Workum, constantly snowing, here was a hopeless checkpoint, tree logs going up . Here Hamersma also drops out. To Hindeloopen, skaters ahead, about a group of 20. Checkpoint in a café near the harbor [Badpaviljoen]. We were sitting here very pleasantly among the groups. I also saw a lady here, half-blind, who was also skating.
To Stavoren and alongside the wind. In Molkwerum, drinks. We were now skating perfectly. In Stavoren, checkpoint in café [A. Kuperus], we encountered Elzinga van Berlikum. Bouwe and Piet skated ahead, going fast, to catch up with them. De Morra/Galamadammen "klûnen" (walking on skates) over cracked ice, it also became quieter. Beautiful panoramic view. In Kippenburg got something to eat, met a delightful young girl and skaters without bread coupons.
To Sloten, wonderful ice, already it was getting dark. Bought some gingerbread in Sloten, bread was gone. To IJlst, beautiful to skate, fast pace without wind. We had a few drinks in IJlst, lots of hustle and bustle. To Sneek, a short distance. Under the Water Port to the checkpoint. Very good, through a garage, under a bridge crawling the last part. In Scharnegoutum, warm Frico and cheese, gratis. Bouwe had 7 and I drank 4 mugs. Taking it easy to Leeuwarden. After 1 ½ hours arrived in Leeuwarden. Checkpoint in an office. On the bus to De Harmonie.

Later stiff legs and aching feet.
A good ending!
The journey accomplished.
The cross earned.